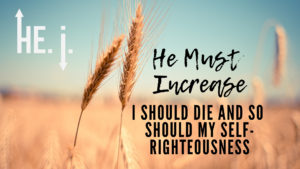 He Must Increase | I Should Die and so Should My Self-Righteousness
Key Scriptures
John 3:29 Therefore, this joy of mine is now complete. 30 He must increase, but I must decrease.
True Righteousness
Romans 10:1 Brothers, my heart's desire and prayer to God for them is that they may be saved. 2 For I bear them witness that they have a zeal for God, but not according to knowledge. 3 For, being ignorant of the righteousness of God, and seeking to establish their own, they did not submit to God's righteousness. 4 For Christ is the end of the law for righteousness to everyone who believes.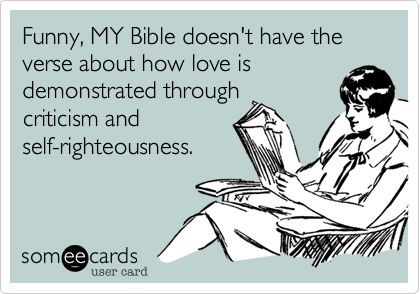 James 2:2 My brothers, show no partiality as you hold the faith in our Lord Jesus Christ, the Lord of glory. 2 For if a man wearing a gold ring and fine clothing comes into your assembly, and a poor man in shabby clothing also comes in, 3 and if you pay attention to the one who wears the fine clothing and say, "You sit here in a good place," while you say to the poor man, "You stand over there," or, "Sit down at my feet," 4 have you not then made distinctions among yourselves and become judges with evil thoughts? 5 Listen, my beloved brothers, has not God chosen those who are poor in the world to be rich in faith and heirs of the kingdom, which he has promised to those who love him? 6 But you have dishonored the poor man. Are not the rich the ones who oppress you, and the ones who drag you into court? 7 Are they not the ones who blaspheme the honorable name by which you were called?
8 If you really fulfill the royal law according to the Scripture, "You shall love your neighbor as yourself," you are doing well. 9 But if you show partiality, you are committing sin and are convicted by the law as transgressors. 10 For whoever keeps the whole law but fails in one point has become guilty of all of it. 11 For he who said, "Do not commit adultery," also said, "Do not murder." If you do not commit adultery but do murder, you have become a transgressor of the law. 12 So speak and so act as those who are to be judged under the law of liberty. 13 For judgment is without mercy to one who has shown no mercy. Mercy triumphs over judgment.
John 8:1 but Jesus went to the Mount of Olives. 2 Early in the morning he came again to the temple. All the people came to him, and he sat down and taught them. 3 The scribes and the Pharisees brought a woman who had been caught in adultery, and placing her in the midst 4 they said to him, "Teacher, this woman has been caught in the act of adultery. 5 Now in the Law, Moses commanded us to stone such women. So what do you say?" 6 This they said to test him that they might have some charge to bring against him. Jesus bent down and wrote with his finger on the ground. 7 And as they continued to ask him, he stood up and said to them, "Let him who is without sin among you be the first to throw a stone at her." 8 And once more he bent down and wrote on the ground. 9 But when they heard it, they went away one by one, beginning with the older ones, and Jesus was left alone with the woman standing before him. 10 Jesus stood up and said to her, "Woman, where are they? Has no one condemned you?" 11 She said, "No one, Lord." And Jesus said, "Neither do I condemn you; go, and from now on sin no more."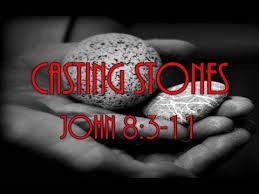 Isaiah 53:5 But he was pierced for our transgressions; he was crushed for our iniquities; upon him was the chastisement that brought us peace, and with his wounds we are healed. 6 All we like sheep have gone astray; we have turned—every one—to his own way; and the Lord has laid on him the iniquity of us all.
Judging Others
Matthew 7:7 "Judge not, that you be not judged. 2 For with the judgment you pronounce you will be judged, and with the measure you use it will be measured to you. 3 Why do you see the speck that is in your brother's eye, but do not notice the log that is in your own eye? 4 Or how can you say to your brother, 'Let me take the speck out of your eye,' when there is the log in your own eye? 5 You hypocrite, first take the log out of your own eye, and then you will see clearly to take the speck out of your brother's eye.
James 5:9 do not grumble against one another brothers so that you may not be judged, behold the judge is standing at the door
Isaiah 53:8 By oppression and judgment he was taken away; and as for his generation, who considered that he was cut off out of the land of the living, stricken for the transgression of my people? 9 And they made his grave with the wicked and with a rich man in his death, although he had done no violence, and there was no deceit in his mouth. 10 Yet it was the will of the Lord to crush him; he has put him to grief; when his soul makes an offering for guilt, he shall see his offspring; he shall prolong his days; the will of the Lord shall prosperin his hand. 11 Out of the anguish of his soul he shall see and be satisfied; by his knowledge shall the righteous one, my servant, make many to be accounted righteous, and he shall bear their iniquities. 12 Therefore I will divide him a portion with the many, and he shall divide the spoil with the strong, because he poured out his soul to death and was numbered with the transgressors; yet he bore the sin of many, and makes intercession for the transgressors.
Key Points
True Righteousness comes by Faith in Jesus the Justifier.
Self-Righteous people are seldom wrong.
Self-Righteous people are quick to Judge.
Self-Righteous people will generally show partiality.
Discussion Questions
Discuss True Righteousness in Christ as per the sermon.
How does self-righteousness offend the Cross?
What does YOUR self-righteousness look and act like?
How can the Gospel help?