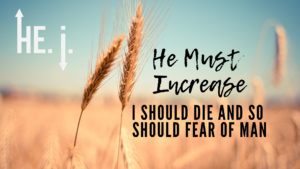 He Must Increase | I Should Die and so Should Fear of Man
Scarecrows and Cucumbers
Key Scriptures
John 3:30 He must increase, but I must decrease.
Ephesians 4:22 to put off your old self, which belongs to your former manner of life and is corrupt through deceitful desires, 23 and to be renewed in the spirit of your minds, 24 and to put on the new self, created after the likeness of God in true righteousness and holiness.
Proverbs 29:25 The fear of man lays a snare, but whoever trusts in the LORD is safe.
Deuteronomy 10:12 "And now, Israel, what does the Lord your God require of you, but to fear the Lord your God, to walk in all his ways, to love him, to serve the Lord your God with all your heart and with all your soul…
Matthew 10:28 Do not be afraid of those who kill the body but cannot kill the soul. Instead, fear the one who is able to destroy both soul and body in hell. 29 Aren't two sparrows sold for a penny? Yet not one of them falls to the ground apart from your Father's will. 30 Even all the hairs on your head are numbered. 31 So do not be afraid; you are more valuable than many sparrows.
Matthew 10:37 "Whoever loves father or mother more than me is not worthy of me, and whoever loves son or daughter more than me is not worthy of me. 38 And whoever does not take up his cross and follow me is not worthy of me. 39 Whoever finds his life will lose it, and whoever loses his life because of me will find it.
Jeremiah 9:23 Thus says the Lord: "Let not the wise man boast in his wisdom, let not the mighty man boast in his might, let not the rich man boast in his riches, 24 but let him who boasts boast in this, that he understands and knows me, that I am the Lord who practices steadfast love, justice, and righteousness in the earth. For in these things I delight, declares the Lord.
Philippians 1:28 and not frightened in anything by your opponents. This is a clear sign to them of their destruction, but of your salvation, and that from God.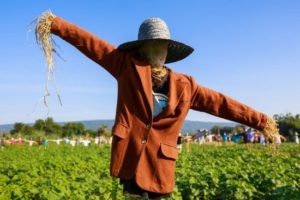 Jeremiah 10:1 Hear the word that the Lord speaks to you, O house of Israel. 2 Thus says the Lord:
"Learn not the way of the nations,
nor be dismayed at the signs of the heavens
because the nations are dismayed at them,
3 for the customs of the peoples are vanity.
A tree from the forest is cut down
and worked with an axe by the hands of a craftsman.
4 They decorate it with silver and gold;
they fasten it with hammer and nails
so that it cannot move.
5 Their idols are like scarecrows in a cucumber field,
and they cannot speak;
they have to be carried,
for they cannot walk.
Do not be afraid of them,
for they cannot do evil,
neither is it in them to do good."
6 There is none like you, O Lord;
you are great, and your name is great in might.
7 Who would not fear you, O King of the nations?
For this is your due;
for among all the wise ones of the nations
and in all their kingdoms
there is none like you.
1 Corinthians 1:28 God chose what is low and despised in the world, even things that are not, to bring to nothing things that are, 29 so that no human being might boast in the presence of God. 30 And because of him you are in Christ Jesus, who became to us wisdom from God, righteousness and sanctification and redemption, 31 so that, as it is written, "Let the one who boasts, boast in the Lord.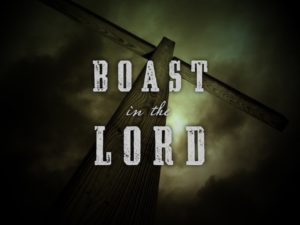 Key Points
When fear of man is present, we make man big and God small.
The person whom we ascribe most authority to defines who we are, what we're worth and what we should do.
We obey the one we fear.
When God is big and we are small:

We worship God.
We have confidence.
We are not easily offended.
Discussion Questions
Where do you find Scarecrows in Cucumber fields?
Fear factor – are you trying to please God or man?
How do we move away from "man pleasing" through the gospel?
How is this series impacting you overall?