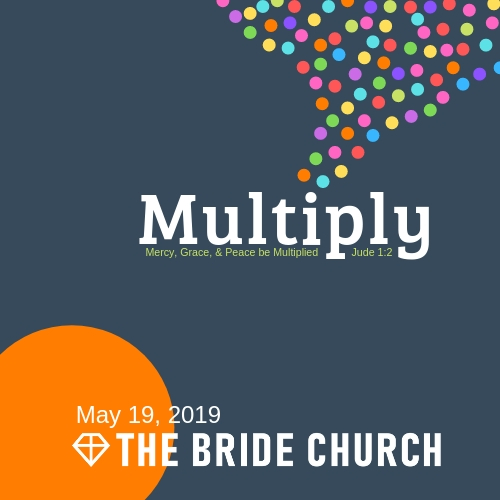 MULTIPLY | MULTIPLY GRACE
JUDE 1:2 MAY MERCY, PEACE, AND LOVE BE MULTIPLIED TO YOU
KEY SCRIPTURES
Exodus 34:5 The Lord descended in the cloud and stood with him there, and proclaimed the name of the Lord. 6 The Lord passed before him and proclaimed, "The Lord, the Lord, a God merciful and gracious, slow to anger, and abounding in steadfast love and faithfulness,
(The superior stooped down to the inferior)
8 And Moses quickly bowed his head towards the earth and worshipped. 9 And he said, "If now I have found favor in your sight, O Lord, please let the Lord go in the midst of us, for it is a stiff-necked people, and pardon our iniquity and our sin, and take us for your inheritance."
The Essence of Grace
John 1:14 And the Word became flesh and dwelt among us, and we have seen his glory, glory as of the only Son from the Father, full of grace and truth. 15 (John bore witness about him, and cried out, "This was he of whom I said, 'He who comes after me ranks before me, because he was before me.'") 16 And from his fullness we have all received, grace upon grace. 17 For the law was given through Moses; grace and truth came through Jesus Christ. 18 No one has ever seen God; the only God, who is at the Father's side, he has made him known.
Saved by Grace
Ephesians 2:1 And you were dead in the trespasses and sins 2 in which you once walked, following the course of this world, following the prince of the power of the air, the spirit that is now at work in the sons of disobedience — 3 among whom we all once lived in the passions of our flesh, carrying out the desires of the body and the mind, and were by nature children of wrath, like the rest of mankind. 4 But God, being rich in mercy, because of the great love with which he loved us, 5 even when we were dead in our trespasses, made us alive together with Christ — by grace you have been saved — 6 and raised us up with him and seated us with him in the heavenly places in Christ Jesus, 7 so that in the coming ages he might show the immeasurable riches of his grace in kindness towards us in Christ Jesus. 8 For by grace you have been saved through faith. And this is not your own doing; it is the gift of God, 9 not a result of works, so that no one may boast.
Matthew 20 – Living Bible Version
20 Here is another illustration of the Kingdom of Heaven. "The owner of an estate went out early one morning to hire workers for his harvest field. 2 He agreed to pay them $20 a day $20 a day, literally, "a denarius," the payment for a day's labor; equivalent to $20 in modern times, or £7. and sent them out to work.
3 "A couple of hours later he was passing a hiring hall and saw some men standing around waiting for jobs, 4 so he sent them also into his fields, telling them he would pay them whatever was right at the end of the day. 5 At noon and again around three o'clock in the afternoon he did the same thing.
6 "At five o'clock that evening he was in town again and saw some more men standing around and asked them, 'Why haven't you been working today?'
7 "'Because no one hired us,' they replied.
"'Then go on out and join the others in my fields,' he told them.
8 "That evening he told the paymaster to call the men in and pay them, beginning with the last men first. 9 When the men hired at five o'clock were paid, each received $20. 10 So when the men hired earlier came to get theirs, they assumed they would receive much more. But they, too, were paid $20.
11-12 "They protested, 'Those fellows worked only one hour, and yet you've paid them just as much as those of us who worked all day in the scorching heat.'
13 "'Friend,' he answered one of them, 'I did you no wrong! Didn't you agree to work all day for $20? 14 Take it and go. It is my desire to pay all the same; 15 is it against the law to give away my money if I want to? Should you be angry because I am kind?' 16 And so it is that the last shall be first, and the first, last."
2 Peter 1 – English Standard Version (ESV)
1 Simeon Peter, a servant and apostle of Jesus Christ,
To those who have obtained a faith of equal standing with ours by the righteousness of our God and Savior Jesus Christ:
2 May grace and peace be multiplied to you in the knowledge of God and of Jesus our Lord.
James 4:5 Or do you suppose it is to no purpose that the Scripture says, "He yearns jealously over the spirit that he has made to dwell in us"? 6 But he gives more grace. Therefore, it says, "God opposes the proud but gives grace to the humble.
2 Corinthians 8:9 For you know the grace of our Lord Jesus Christ, that though he was rich, yet for your sake he became poor, so that you by his poverty might become rich.
KEY POINTS
God is Gracious, and His Grace saves us and changes us.
The proper response to Grace is Worship.
Grace is multiplied through knowing Jesus and Humility.
The lost respond to grace, Paul, Peter the Prodigal, the Prostitute,
DISCUSSION QUESTIONS
Would you consider yourself a person that leans into Justice or Grace?
How do you respond when someone gives you Grace?
Generally speaking, do you look for credit for what you do?
How does a person become humble through the Gospel of Grace?